The darker days are drawing in and it's time for reflection over a busy year for LIFE on Machair. In our first LIFE on Machair blog we wrote: 'we're only at the beginning, but after one hundred days it is clear that any Machair focused project has to be collaborative. We all stand to lose these precious natural and cultural treasures, and so we all have skin in the game. Fortunately, the interest and willingness is there, and that in itself makes for a good beginning'.
Well, after almost a year now, with a roadshow of public meetings under our belts and several windswept meeting on Machair hillsides and plains (in both Ireland and Scotland) we're happy to stand by that quote, which inspires us in the LIFE on Machair team to chart a fairly ambitious course for 2023. Thanks to everyone who helped and inspired us along the way.
Progress since July 2022
Having recruited the bones of our ecology and administration team by August 2022, after a period of visiting sites and bringing everyone up to speed on 'What is Machair and why is it so special?', over the course of October and into late November we hosted a number of public information meetings relating to the project target areas.
At these meetings held in community halls of Ballyconneely in Connemara, Killeen in South Mayo, The Valley in Achill, Eachléim on the Mullet peninsula, and Dunfanaghy and Gaoth Dobhair in North Donegal, we gained invaluable insight and feedback from local farmers, community groups and an array of interested people – some from beyond the boundaries of the target areas but mostly with interests from within. In general, we discovered that we are all agreed of the need for relevant and appropriate guidance for the future 'balanced' use of Machair complexes – in terms of nature conservation, agriculture, local amenity and wider tourism.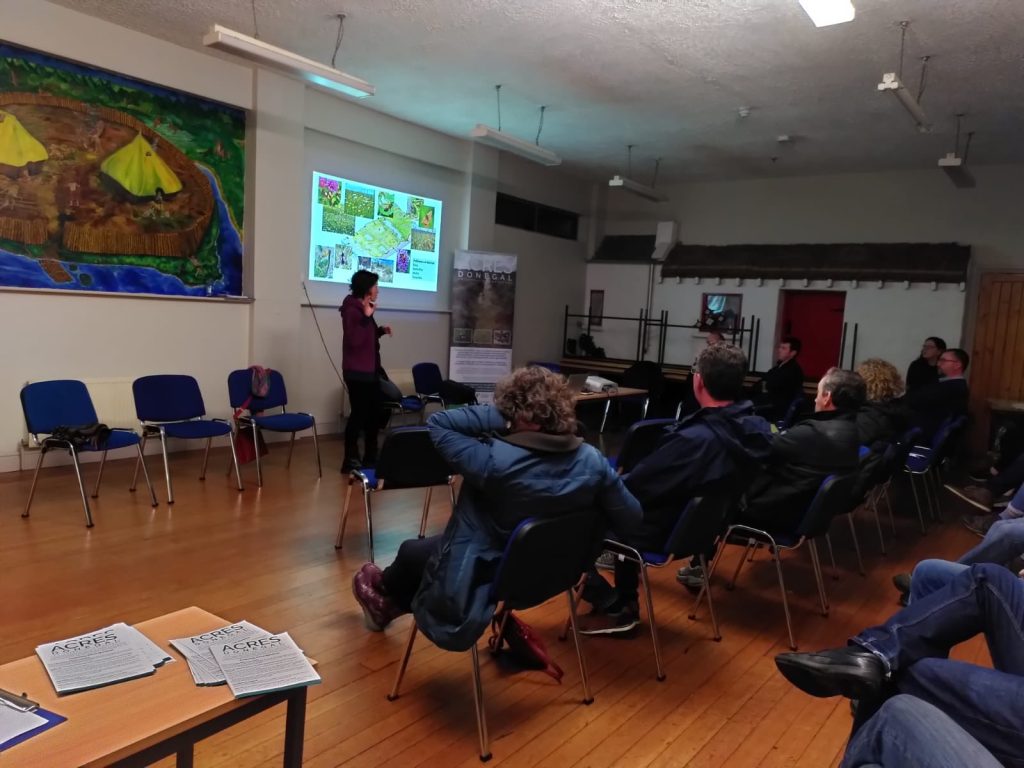 How will a LIFE on Machair pilot agri-environment programme align with ACRES CPs and how will it incentivise farmers to participate?

A bespoke LIFE on Machair pilot agri-environment programme will comprise a top-up to ACRES CP supporting farmers to carry out more detailed actions not supported by ACRES CPs. These actions will help to improve the ACRES CP habitat score (through funding active restoration measures such as chestnut fencing, sea weed application, seeding etc.). For example, this will help improve payments those ACRES CP farmers with low-scoring commonages.
How will LIFE on Machair work to avoid double payments?

LIFE on Machair will not pay farmers for the scores achieved for habitat quality as this will be paid for through ACRES CP. LIFE on Machair will support CPs when scoring commonages and advisors on private plot scoring; LIFE on Machair will also help refine scorecards to be suitable for Machair complexes / habitats. There will also be consideration of a participation payment for farmers to join in 'local farmer / restoration zone' groups.
When will LIFE on Machair 'know' its payment scheme / structure? What are the next steps for interested farmers / landowners?

Spring 2023 is the deadline for the LIFE on Machair pilot agri-environment programme to be developed. Once this is ready to circulate we will coordinate a follow up set of information meetings in project target areas as in autumn 2022. Given the range of sites, we will scope out priority areas (those with specific issues / high priority species such as Dunlin).
What actions will be required where?

Actions will be identified through the restoration plans from each site. LIFE on Machair will develop restoration actions with farmers and locals which will include grazing management (type, timing, duration) and other actions (fencing for waders, seeding etc.), as well as regulatory measures for local amenity and tourism. These will form the basis for participation (feeding in local site level knowledge) and actions.
How will commonages be dealt with?

These will be addressed on site by site basis using guidance developed from other projects. This will involve developing commonage groups and interactive engagement 'local farmer / restoration groups' over the course of the project (and how to sustain them beyond 2028).
How can local communities get involved?

Over the course of 2023 there will be a number of community workshops aimed at developing appropriate guidance for amenity and tourism use of each site. There will also be a schools programme, as well as opportunities to engage and share knowledge across sites. These will combine learnings from the agricultural and recreation / tourism strands of the project. Follow us on social media (Twitter and Facebook) for updates. Our website will be updated in spring 2023 to reflect developing resources.
Spring-ing into 2023
We were reminded constantly on our travels that a LIFE on Machair pilot agri-environment programme must be attractive for farmers to participate, but importantly, must match the nature conservation and restoration plans currently in development by the LIFE on Machair team. In order to achieve this, over the course of spring 2023 we will be working closely with our DAFM, DHLGH and Teagasc colleagues to ensure our work will complement existing schemes (such as ACRES) and conservation objectives of our project sites which all fall within the Natura 2000 network. Through a process of engagement and shared learning we will develop the farming 'dos and don'ts' for Machair in Ireland – lessons to be incorporated into the next round of CAP agri-environment schemes in 2028.
In terms of local amenity and tourism we will work on the same basis – developing the amenity / tourism 'dos and don'ts' – but in relation to access, trafficking, and general use and enjoyment. This will lead to us working closely with colleagues in Fáilte Ireland, local authorities, wider groups of tourism operators and site managers at local and regional levels, as well as interest groups such as Clean Coasts and Leave No Trace.
Some immediate actions in 2023 will involve getting to work immediately on the most heavily degraded project areas to start building back eroded fore dunes and revegetate sites where appropriate. We will be guided by the research community but also by the learnings of existing restoration project areas like Dogs Bay, Bertra Beach and the Maharees.
Other ongoing actions are the identification of sites for temporary wader sanctuaries – using innovative fencing methods to slow down predators, people and dogs off leads, during the most precarious times for wader chicks. This will involve taking on nest protection wardens to manage the fences but also track who is getting in and out from time to time to raid the wader sanctuary!
Each action will present a learning point and will underpin the success of LIFE on Machair restoration plans, which will be shared with local farmers and communities from spring 2023.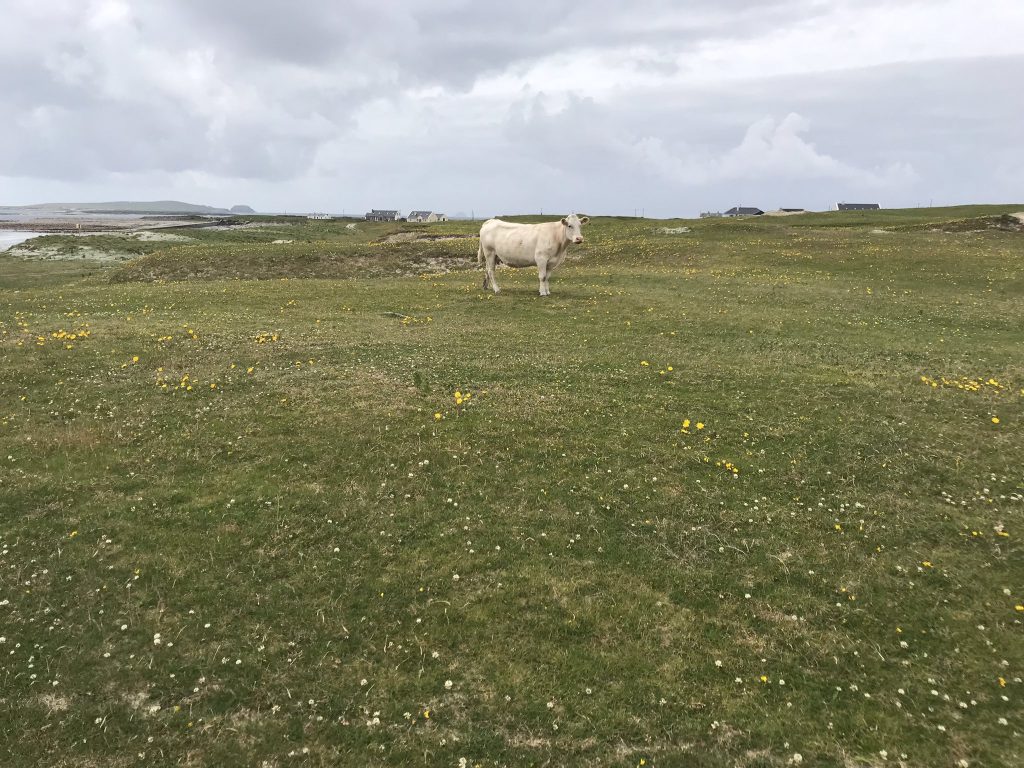 Working together – ag obair le chéile
What we do with these sites now and over the next few years will either build Machair complexes up in terms of their future resilience, or the less favoured path – wear them down and lose them forever. This latter scenario certainly isn't an option we'll be considering. Regulation of agriculture and amenity / tourism use to ensure their protection and restoration – challenging areas in any location –will require participation, engagement, and input and interest locally. As a 6 year project, we certainly can't do this on our own, and in ways it will own set the foundations for following decades. Our community engagement officers scheduled to join the team in early 2023 will be critical for us to deliver on each of these bottom up-community led aspects.
We look forward to meeting with you over the course of 2023, and watching together the green shoots of recovery of these precious sites and their species.